I had many doubts about either I should write another article about the next chapters of Her Shim Cheong. I wasn't sure I wanted to go through all the burden of reading them and making an article about it, it was painful to think about this manhwa.
It wasn't painful because I didn't like it, how could I? this manhwa is so magnificently drawn that it would convert even the most notorious Shounen reader for Shoujo-ai.
Some of you may thing that I am overreacting or even that I am lying, but those who already took a step ahead and started reading Her Shim Cheong after reading one of my post or without my help knows what I'm talking about…
They also know that what is coming next, would be wonderful. I was scared to write about this manhwa again because I was frightened to know what I'll discover in the next chapters after our dear minister's wife and her dear Cheong was being trapped by the horrible minister's son.
Well, I was indeed right to be scared because this next two chapters are terrifying. Just as terrifying as the news I have for you today.
This week I am opening my doors to three amazing requests made by my wonderful readers. I'm giving you the opportunity to give one subject each for me to write about. This is an awesome opportunity to see your ideas being involved in the growth of this blog.
Don't waste any time, I'm already looking forward to all your requests.
Click here if you are interested.
Now, let's go back to our main source of happiness. Today I'll be analysing Chapter 55 and 56, all the downfalls and the beautiful heart busting we got from them. So, without further due, this is the analyses of Chapter 55 and 56 of Her Shim Cheong by Biwan and Seri.
Well, where to start in this new chaotic atmosphere in which the author left us last time. It's incredible how terrifying this situation can be although I know this is not reality (or is it?).
Once again, The tale of her shim cheong left us with an unspeakable sense of defeat in the previous chapter, but this time the minister's son is determine to finish up what he started.
I wasn't sure on how it will turn out and I was definitely scared that was the end of our beloved pride of the minister and Cheong. By then I was done emotionally.
I hold my breath once again and took the courage to scroll down to see what will become of our two lover birds. Sadly the plan of the minister's son worked and he got his hands on our dear pride.
Despite the help of Cheong to free her and flee with her beautiful pride, she couldn't escape the situation and got pushed away by the three men that was accomplice with the evil son.
This was it, the moment of truth. The moment that the evil minister's son was waiting for the very first day he saw his mother-in-law. He prayed the gods for a situation like this to come and his prayers were heard…
Or was it really?
Right are the moment where I thought all hopes were gone, a miracle happened and the river was beginning to unleash its anger (as they call it, the dragon of the river was getting angry).
Not one not two minutes past and Cheong took the opportunity to grab her queen and ran away with her to safety. BUT…
As you know in this story, nothing is ever going well for too long and that's why we are reunited today. So let's get into the drama…
The following chapter pours us into the drama soup right at the beginning with the announcement of the minister dead. Unfortunately, his pride wasn't by his side when he died.
And you know what it means in this world where every move that you do as a woman is strictly followed and criticized. Now she will be known as the wife that wasn't by the side of her husband when he died because she wanted to have some fun.
Unfortunately, this sounds like the end of our beautiful pride. Everybody is so eager to see her disappear because of some unproven theory that she is a fox animal. Theory made by her own son-in-law.
I'm scared of what will happen to our beautiful pride in the next chapter because now that we are having flashbacks of her childhood, this sound more like a goodbye than a I'll see you tomorrow.
The only beautiful and reassuring news of these two chapters is that the Chaman woman helped Cheong and her wifey escaped the claws of the evil son-in-law.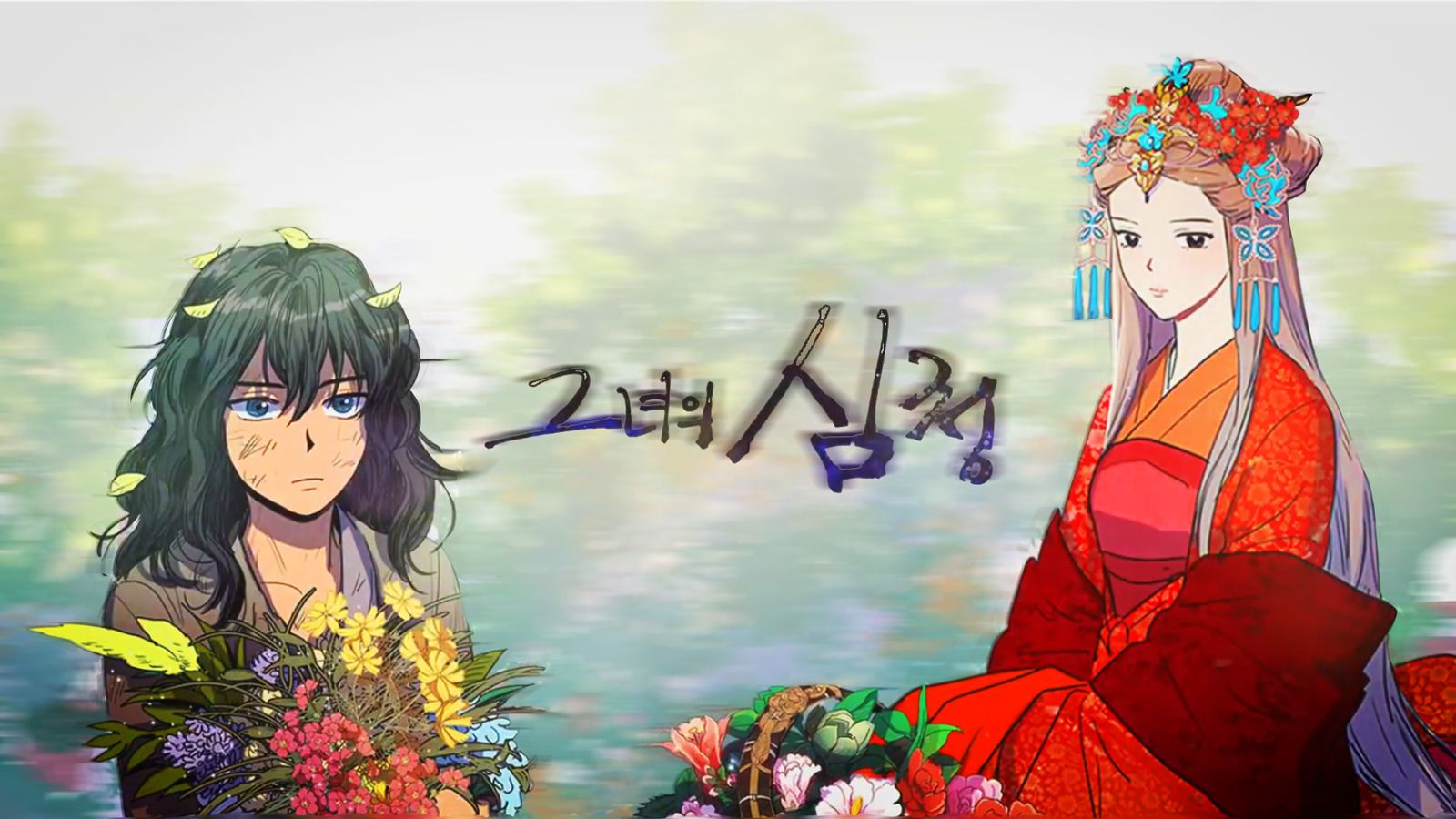 Now I'm just waiting to see what will be her fate in the next chapter. I have so many questions; will Cheong stay by her side? Will they end up together? Will they have their first kiss before she dies? Will I stop reading this manhwa because of all the anxiety that it's giving me?
All those questions will be answered in the next articles.
For now, this is where the author is living us and I am excited to know the end game of this wonderful series. Well, at least I am excited to read the English version of the series to the end.
This is a piece of small information for those who didn't know, but The Tale of Her Shim Cheong is actually available in its Korean version fully finished and published on the Korean webcomic publisher Bomtoon.
If you are interested in reading the raw version and obviously understand Korean, you can jump right into the link down below to go and read the raw version of this wonderful yuri (actually for now Shoujo-ai) manhwa and why not finish it before everyone else.
Well, that's it for me today. Hope you enjoyed this short moment together, for this entire week I'll be waiting for your requests and I'll be excited to write for all of you. Don't forget to subscribe to my newsletter to be informed when I post new articles and I'll see you next Saturday for another discovery.
Peace and Love
Manhwa source: Tale of Her Shim Cheong
Writing Participation: Click Here
Manhwa Raw version: Her Shim Cheong