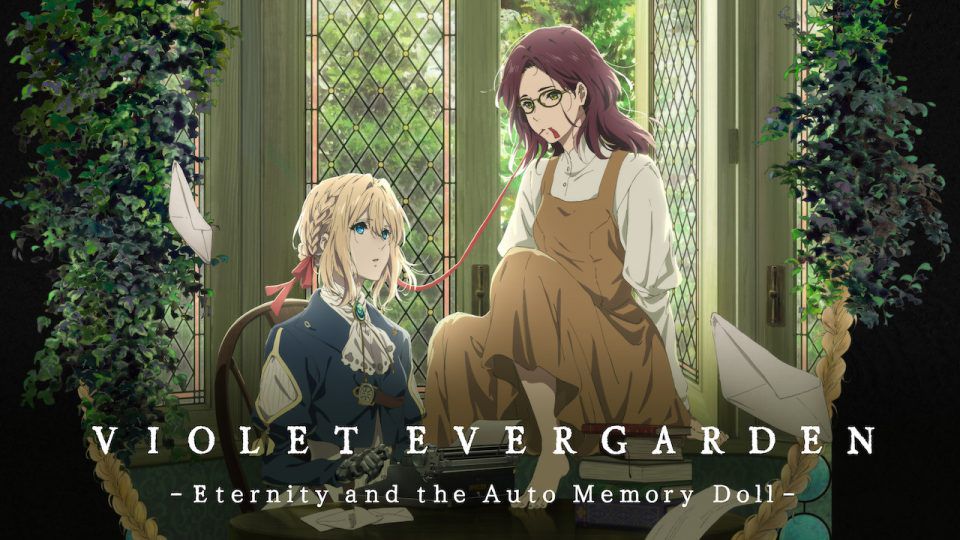 One month. One month is the amount of time I've already spent at home, in fact, it has been precisely one month and 2 weeks. And for a depressive person like me, this is not the most beautiful condition in the world.
In normal time I am not a very sociable person even though I am an ambivert who needs my good amount of social interaction. Sadly, right now it's actually going on the bad side, but I'll talk about how I deal with my mental state at the end of this post, now I will talk about the numerous shows that help me handle this confinement and today we are starting with the one and only that we don't need to present anymore Violet Evergarden but this time in the movie Eternity and the auto memory doll.
There are actually reasons why I never talked about Violet Evergarden in an article, even if I already watched the whole series 2 years ago. Don't worry those reasons will be established all around in the analyses I'll be doing all along with this article. Next, I want to encourage you people with SUPER ADVANTAGES by clicking on this link here. It will be a way for you to participate in my articles so make sure to go check it out.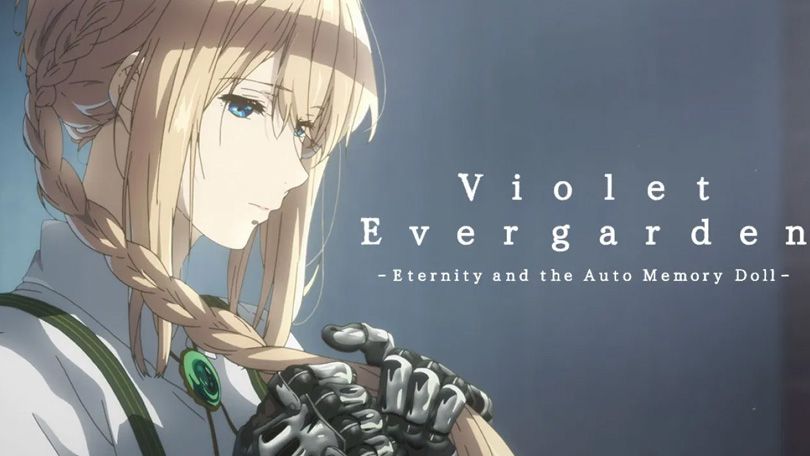 Despite, what it looks like I do not have much time on my hand and the little that I have I don't want to spend it depressing on my bed looking at the ceiling aimlessly. So, yesterday I chose to go on Netflix and search in my wish list an interesting movie to watch. Suddenly, a flashback came back to me about Netflix remembering me that a new movie about Violet Evergarden was up. So, I did not waste any minute and jumped on the occasion to watch it and God, I do not regret doing so.
I've never felt so troubled after watching a movie than I was when I finished Eternity and the auto Memory Doll. I've seen a lot of movies (you can check on my blog if you want proves), but never have I been so happy to finish a movie.
This movie left me with so many questions, doubts and love.
I'll make a small descriptive moment for those who haven't watched the movie or the series yet and by then doesn't know much about the character of Violet. I'll make it short; Violet is a memory doll that was formerly a weapon child that was forced to retire after an accident where she lost her two arms. Now she is equipped with prosthetics and she's travelling around the world as a memory doll (people who write letters for others, also called Ghostwriters). Well, that's it for the short character presentation. Back to the story…
This time too we still follow her in her adventure in an only girl boarding school and she will be serving as a teacher for an apprentice. During her all the time that she spends there, we are getting to know different characters and the other main character called Amy…
She is a very timid girl that isn't used to socialising yet because of some events that happen in the past and I got to say, she is actually a very cute girl I have to say. But she lacks the confidence of a lady and that's what Violet is there for.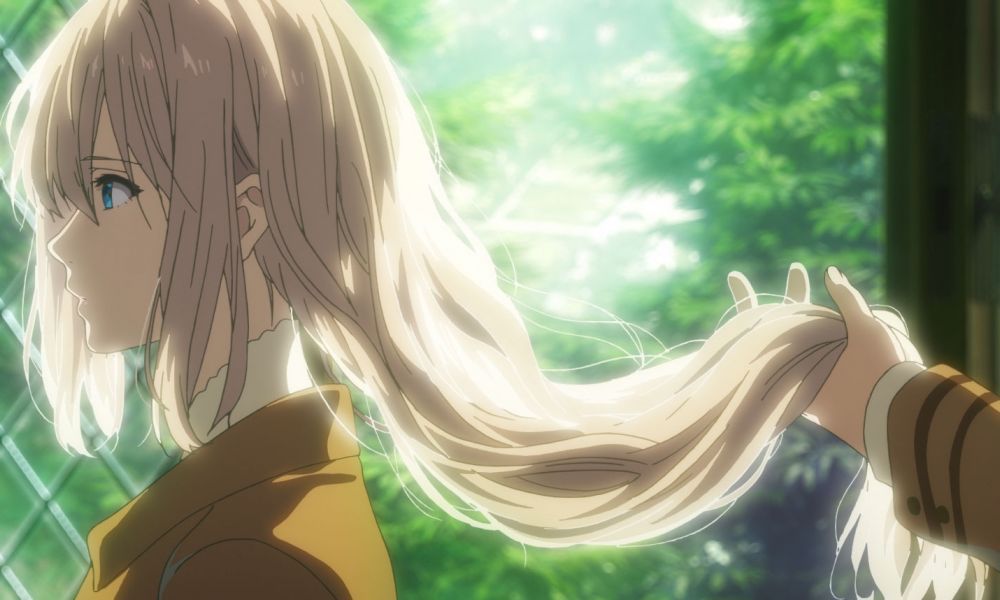 Focusing on the character development in this new movie, I personally have nothing to say on that part. Because everything was clearly shown, scripted, and drawn to make the viewer understand and enjoy every bit of motion that she/he could watch. I really found what I loved about the whole story around Violet Evergarden this time again. There were beautiful animations, let it be on the background, the characters and especially the LIGHT FOCUSING.
This show makes the saying of having a good lighting source, so much sense. It is without a doubt that I can say that the whole show is centred around the light source. If you think about how the character is drawn, the emotions that are being transmitted through the screen with the only help of light just like the picture above. Either it is the character movement or distress, light is perfectly made to accompany the characters and the viewers to understand what is going on and the emotional intensity of a scene.
It is by the light that you go through to know that the character feels sad, nostalgic or simply happy. This time again, Haruka Fujita strikes even stronger than before with an amazing story that made me cry FOUR TIMES. Yes, I counted. I cried 2 times in less than 30mins of the movie. Right at the very beginning…
Some of you may think is it because I am a very sensitive person, but I can tell you that I am definitely not the type of person that cries that often. Nonetheless, I am not here to prove anything to you. if you do not believe me, you can still go and watch it yourself and make your own opinion about it. Anyways, I never would have imagined a story this beautiful and astonishingly emotional.
There's also the fact that I love the Yuri teasing that they went for in the story, I loved it. For an all-genre lover like me, I appreciate it when sometimes shows plays with a genre that I particularly appreciate and also with a theme that I particularly connect with, ANDROGENITY.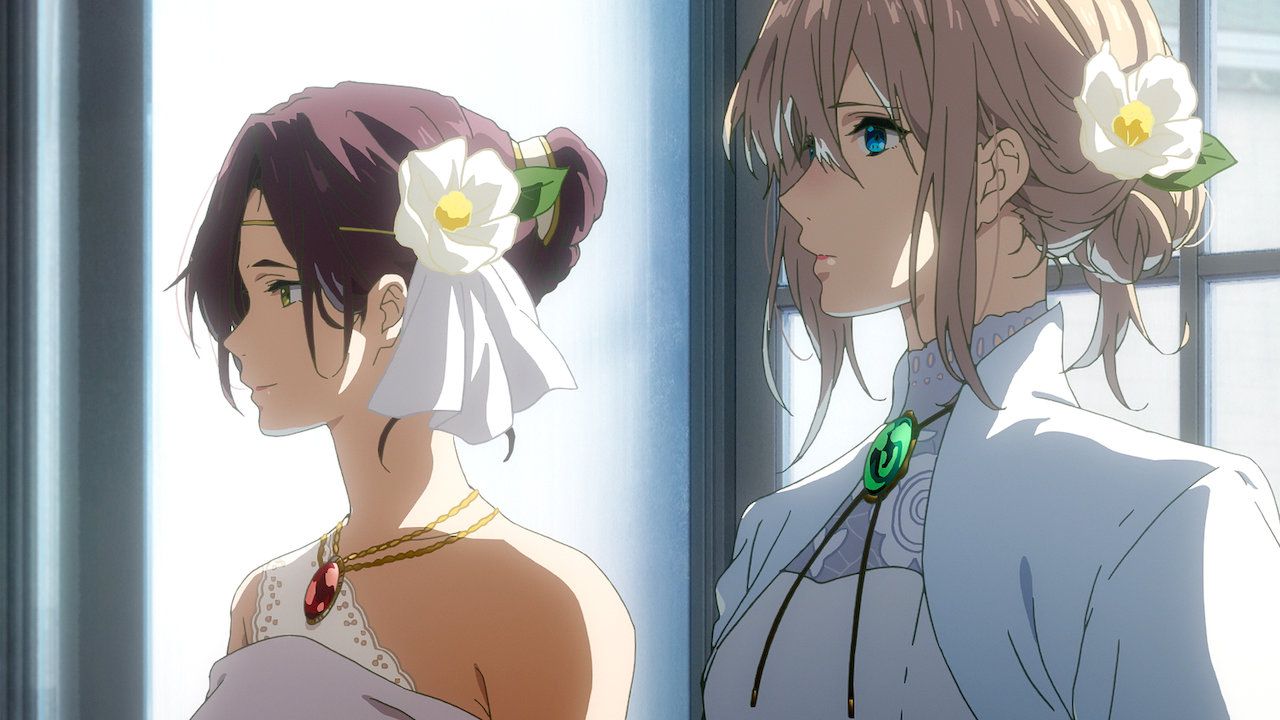 I find it cool that they chose to introduce this theme in the scene. It was made with such smoothness that my heart could melt if it was physically possible.
I love the image of Violet in a royal knight role and I am demanding more of moments where she continues to be this astonishing and wonderful.
My secret is that, I hope we will never have to see her being engaged with anyone and that she continues to preserve her love for the general. I know it may sound selfish, but I don't want to see her tight to someone because it will stop her adventures and I will not have this much of fun seeing her being innocent again and discovering friendship or life in general with someone by her side. I don't want to see that happen and I hope she will stay in the future our innocent and pure Violent Evergarden.
For me Violet Evergarden is not just a cute girl traveling around the world to discover all the different kind of love, she is actually a pure soul that make us travel with her and make us discover through her innocent eyes all the different kinds of love that exist out there. She's a real inspiration and I'll be heartbroken if that inspiration come to an end.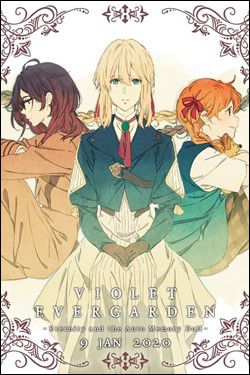 Well, this is where everything ends about Violet Evergarden: eternity and the Memory Doll. The word that you need to print in your heart about this story is Friendship. Because in this movie we have the honour to discover through her eyes the main definition of friendship and how precious it is. It's definitely not the only theme introduce to us in the story, but I am happy about the result and waiting for the next movie if there's any.
Coming back to the story about my depression earlier, I'm actually doing fine. Even though isolation is not my favourite thing in the world, it doesn't help that I have become the worse antisocial person that I have ever met. This movie helped light up the darkness in me, but just so you know, you can not heal from depression, you just learn how to live with it. If you want to know more about me and have a conversation with me about any topic, go check out my twitter Kayfrid Memory (link down below) and I'll be happy to talk to you.
Now, the next level of commitment is up to you, you can support me by clicking on the link Support below and benefit from a lot of advantages or subscribe to my newsletter so that you will be informed when I post any articles. So, I hope you had a great moment with me, let's meet back here tomorrow with another discovery.
Peace and Love
For you guys (and girls): Support
Twitter: Kayfrid Memory