You are relaxing on your couch with a hot drink in your hand while reading a thriller book or watching one of your favourite series on Amazon prime and suddenly a weird question come through your mind. You put down whatever you have in your hands, pause the series that you were watching and then grab your phone...
You want to verify that silly question that just came through your head, you start checking up your list of favourite manhwa and finally come to an undeniable truth that is hard to accept.
The question that pushed you to this investigation was Is what I am reading right now, visually stimulating or even having decent storytelling?

Hello everyone, my name is Kayfrid, I came upon this fascinating manhwa today and I thought it would be a great idea to present it to you. The manhwa is called Angels Don't Live Long (ADLL) by Sketchylinez. one author publishing it's art on Webtoons, if you are not familiar with this platform, you better stay tuned to know more.
ADLL is one hell of a webtoon that I recently discovered like I said above that instantly put my ass to the ground. I've never felt like I was reading a movie in my whole life before reading this manhwa. this is actually a short story of 6 chapters and I just started reading the first chapter...
I often wait before writing about a manhwa, but I absolutely had to talk about this one. I was immediately convinced by the drawings and the storytelling. The flow of the reading experience and the realistic evolution of the story and the characters is a truthful serving to this story.
At first, I got intrigued. I was curious to what this story was about, I seriously taught that we will be going for a copy maker of White Angel Have No Wings first tome and second tome. But. I. Was. Wrong. And I am seriously happy that I was.
The immediate feeling of reading this story was like walking directly into one of the fights of the Pinky Blinders. I felt uneasy, I was scared, frightened that whatever I'll be doing, something terrifying and unexpected will happen, and it did. But I wasn't disappointed, instead, I was angry. Angry that it happened, Angry that I couldn't do anything but watch it happen, I wanted to make it stop, I wanted to enter inside the story and slice the throat of the person doing that horrible act. But I couldn't, I couldn't do anything but watch.
Haven't we felt all the same when watching a series that we were so passionate about that we just wanted to enter inside that show and break the neck of that stupid character that didn't need to exist? the thing with those type of shows is that we got used to the plot after 2 or 3 episodes (or chapters), we didn't get passionate right at the very beginning.
But that is what happened to me today. I got passionate about this story after reading just the first chapter. I do realise how silly it sounds, but it's like I couldn't help it. It just happened and that is why I'm advising you all to go and read it.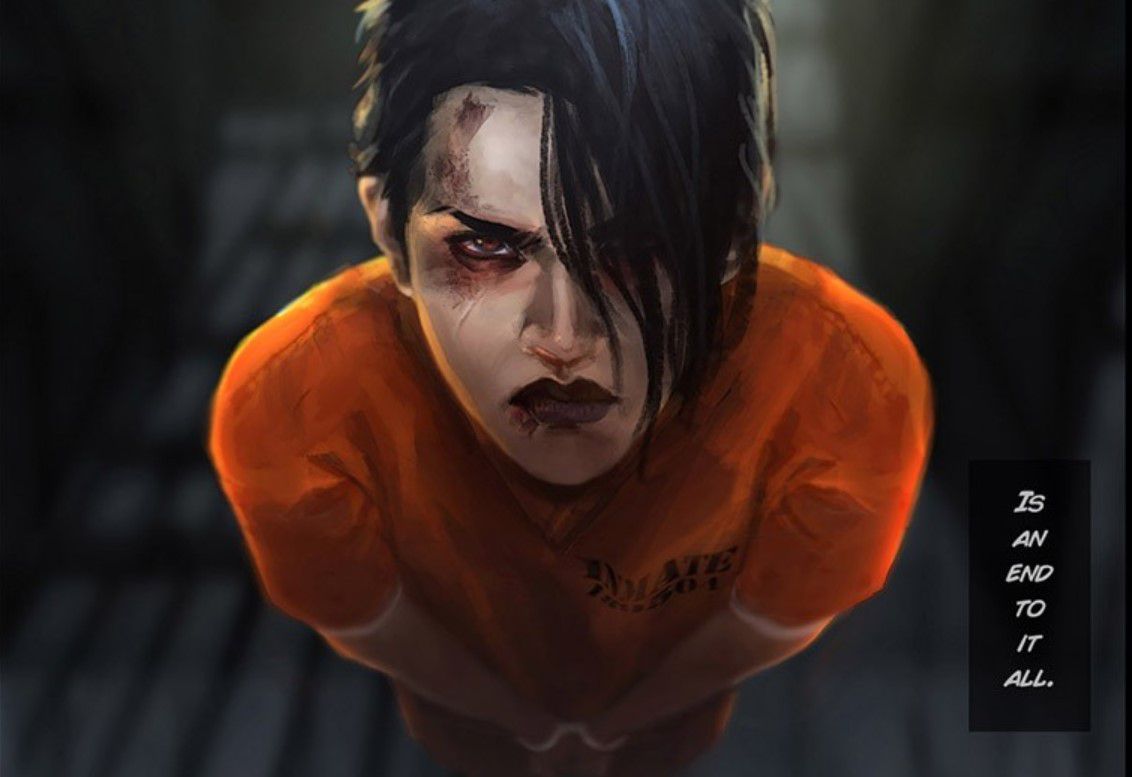 Don't worry too much about how much it will cost you, the wonderful thing about Webtoons is that you can read everything on their side for FREE and the bonus is that there are MILLIONS of ways for you to support your favourite artists, on their platform. So don't worry too much about that. Another thing is that I am not sponsored to write these things about them, I'm just telling you about my experience on their website. As you know my only mission on this blog is to bring to you all the masterpieces that I can find on the whole internet, so, if you want to support me and benefit from huge advantages, you can joyfully click here.
I strongly do not recommend this manhwa for a younger inexperience audience because of the all violence that it contains. I don't want to be your parents and control what you should or shouldn't watch, but I just want you to be aware of what you are going for. Anyway, I warn you.
In conclusion, I loved this story and I'll definitely continue reading it. tell me in the comment section if you want me to do another article about this manhwa, don't forget to subscribe to my newsletter if you want to be notified when I post new articles like this one. I hope you enjoyed this short moment together, stay safe and I look forward to seeing you next Saturday for another discovery.
Peace and Love😄
If you want to support me: Support
Manhwa source: Webtoons