Since the very beginning of Her Shim Cheong, I never stopped to be surprised and mesmerised of all the ups and downs that this story can bring to me emotionally. This manhwa has certainly given to all its readers a heart attack, a heart melt and a tornado of sadness once or twice during their lecture, especially in this chapter that I'm about to present to you. My name is Kayfrid and today I'll present to you chapter 54 of Her Shim Cheong that I consider for me one of the most terrifying chapters of all. In the following notes, you will find what awaits you in this chapter and what to expect as an emotional rollercoaster. Even though this is a review, I'll try my best for the first time not to spoil too much for respect of this chapter. For the new readers, you can go and check the link on my article of the manhwa Her Shim Cheong.
Last time we stopped on our two lover birds (but they don't know it yet😏) having fun at the festival, everything was pretty calm and lovely, but as we all know by now, nothing ever stays beautiful very long in Her Shim Cheong. And that's exactly for the DRAMA that we are all reunited here today.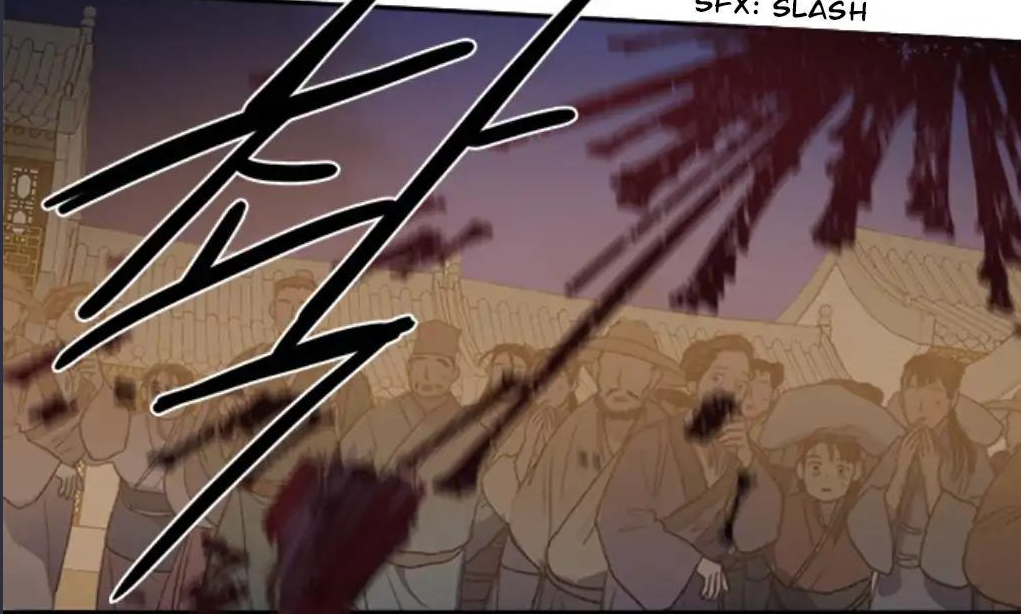 As we are talking about this chapter, the colours are immediately announced in the title itself. We are welcomed with "Fox hunting" right at the beginning. Excited AND terrified, my innocent and pure heart reluctantly scroll through the images with a sort of big spear over my head. I was ready to see appear at any moment something terrifying that will force me to close my eyes and never come back on this manhwa ever again (even though we all know that's not true).
Anyway, fear was hanging at my throat and I had no idea how to stop it from getting bigger and heavier. But this panel came around and at that moment I WAS THE ONE holding my breath and my throat to avoid skipping any parts that could be important for the following upcoming event.
Frighten, I scroll through the craziness that was being made right in front of my eyes.

And God knows what type of craziness it was. Honestly, this manhwa never ceases to impress me. True, the art is not as scary as the one of Ghost Teller or Sweet Home, but it definitely leaves a sense of insecurity in your heart. Well, the story continues with our dear fortune teller summoning the dragon of the lake to free the cursed that it has put on them, and starting from there, everything started going south. Ouch! That was freaky. Creatures coming left and right coming from God knows where. Even though those creatures came with their gloomy appearance and gloomy aura, the fortune-teller continued to do the ritual, when a vivid vision came to her in the middle of the ritual and that vision almost cost her, her life.
The vision is apparently led by those strange creatures that appeared from nowhere, actually revealing who is the real culprit that is putting the malediction on the village. And the shock of the news pushes the fortune teller to throw up some blood. This was quite a disturbing news because apparently the son of the emperor knows about the truth and he is for some unknown reasons trying to hide the truth and pointing the fault on someone else, as if that will solve the problem if someone else falls instead of the real issue is not taken care of. (and we all know who he wants to imprison in his trap)
I told you people; this time we are going deeper into something way gloomier and tragic than the usual chapters. Because this time the emperor's son is shouting to the public (ordering at this point) that the fox is between them and that they must remove their mask to reveal each and everyone faces. By now guys I'm pretty sure you already got the idea that this doesn't sound good for our beloved pride of the emperor.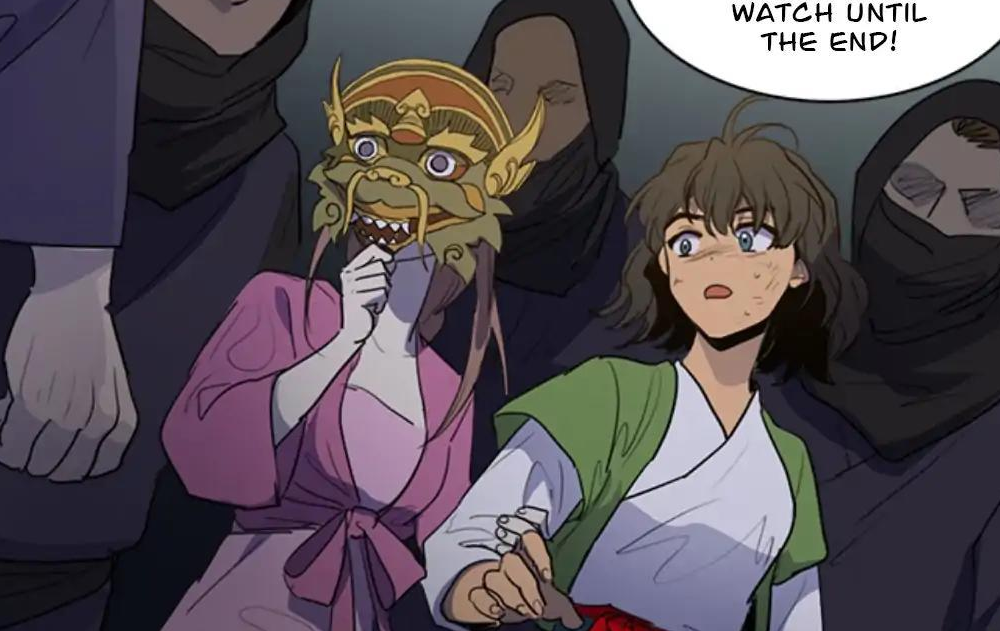 Hopefully, Chong felt that something was wrong, sadly a little too late. Because remember those guys who came and stand behind them blocking the way for our two beauties to run away safely in case of emergency. Well, I guess their plan was actually to block everyone's way because they succeeded and our two lover birds were left blocked inside to their possible approached dead.
This is where the manhwa concluded, and this is where I am also concluding. To sum up, a little bit about what we just came across. This chapter is truly the beginning of the climax for the future chapters to come which by me will be more terrific than what we just came across. The pros of this chapter will be that nothing of the fright has changed a single bit, definitely a chapter that I will recommend you if you are in a depressive phase right now. I know how hard it could be to feel totally helpless when being in that state, but this will help dive you into the story and forget about the shitty reality. So, yes. I recommend you this chapter my dear depressive friends out there. Concerning the cons, I haven't found any that could actually grab my attention to the point where I could feel displeased by my experience reading the manhwa. So, it's safe to say that you can immediately dive right into the story by now. So yes, that's it for me today, don't forget to subscribe to my newsletter if you want to receive before everyone a notification when I post my articles and I'll see you next Saturday for another discovery.
Peace and Love
Manhwa source: Her Shim Cheong