NOVAE
A fantastique month that announce a lot of flowers, hearts and plenty of love letters, that's what February is all about. I'm fully aware that some of us do not celebrate or even more do not like the so popular event called valentine's day. But since this is the month of love, I have given myself the mission of offering YOU some suggestions of what to read or watch for this entire month, either you are single, in a polyamorous relationship or in a monogamous relationship and today we will begin with one of my coup de coeur that I discovered during the end of the year 2019. This manhwa or should I call it webtoon is a magnificent yaoi (BL) drawn by Kaixju and it is brought to you by Webtoon.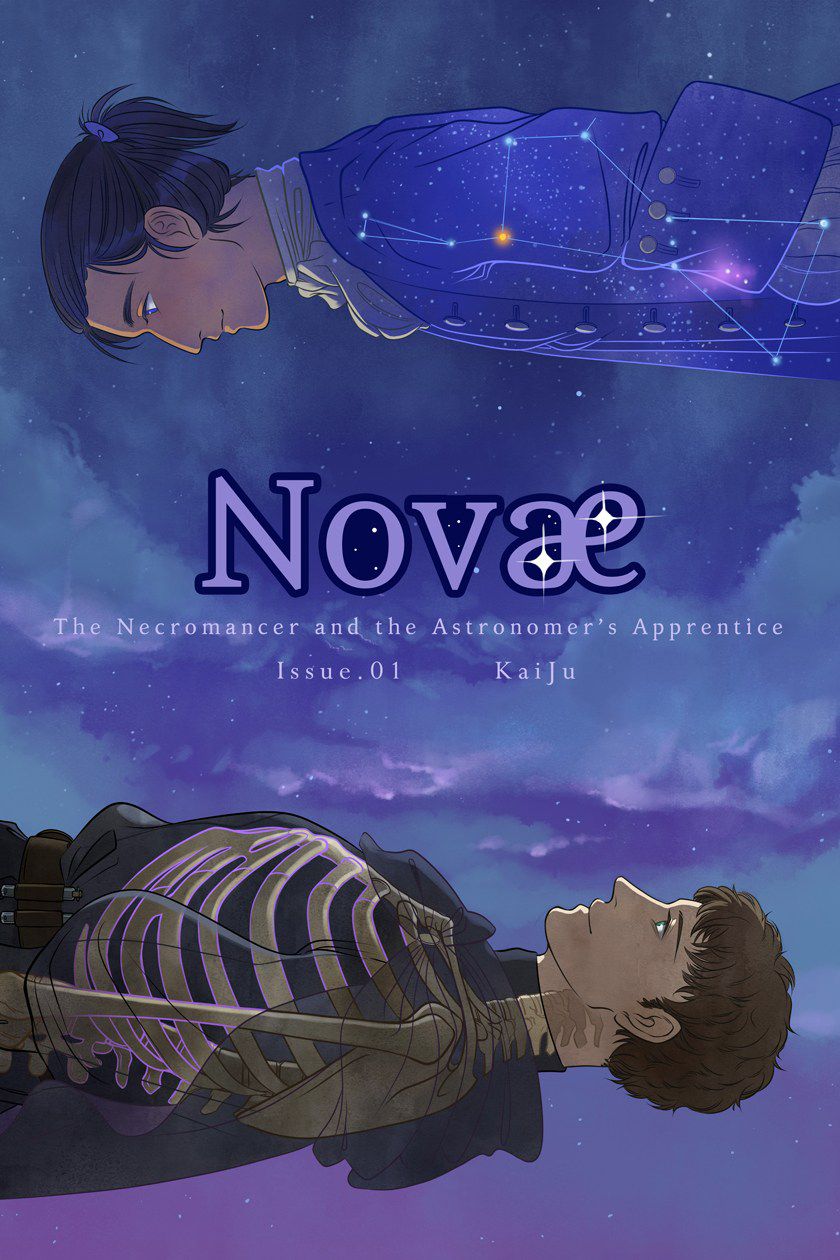 My journey in search of precious rare manhwa led me to this wonderful
treasure in disguise, I couldn't have imagined that this simple cover could bury such a wonderful piece of art. Before diving into the different analyses about the characters and the storyboard, I need to tell you that Novae is not the typical book that you will just pass by and read the back page and therefore continue your day after that. Nope, mixing death and mathematics is not at the fingertips of every given person, when I stand upon such manhwa that strive to touch the untouchable. You can't resist more than just want to accompany them into the journey.
Well then, let's take the train to Novaeland and hold tight to my hand, cause, now starts the tour of the incredible manhwa of Novae. When you enter the manhwa theirs is definitely something that strikes you to the deep edge of you soul, and that's the graphics. The amount of energy and talent given into just that element of the manhwa is MARVELOUS, it is indeed one of the best part of Novae. The reading is easy and fantastically appealing to the eye, I certainly had no issue with that, there's a fact that I find disappointing though and that's THE CHAPTERS ARE WAY TO SHORT. I cannot live with huge cliff hangers that cuts right in the middle of an action, and over all there's not enough panels for me to slobber on like a dog (it's just too irritating). But I understand if the author cannot provide me with more panels due to some issues in the workforce. It's fine by me, I just feel like it is a shame though.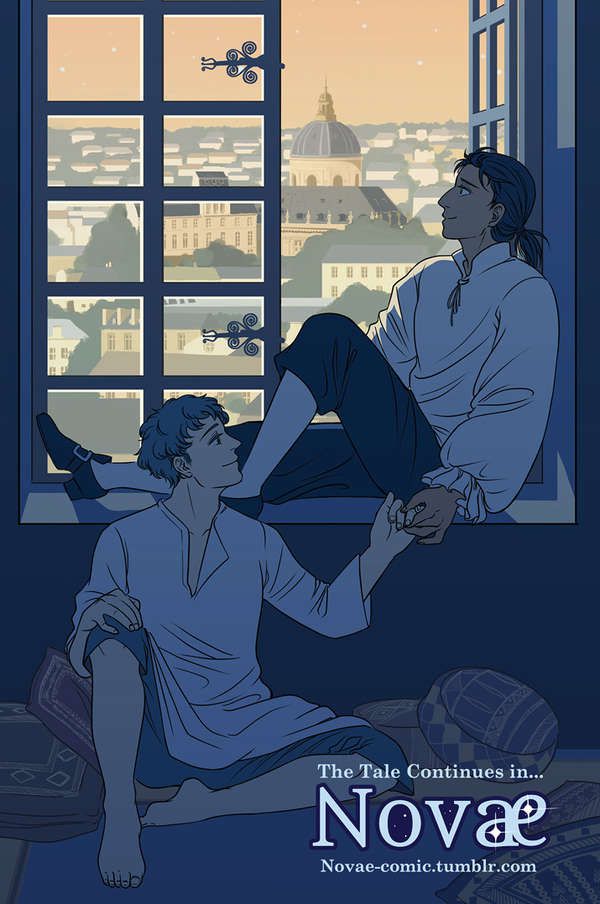 Nonetheless, I'll still stick around to read the rest of the manhwa and dive right into our two protagonists that we follow throughout the entire story. Raziol and Sulvain. Two beautiful people that transport us so wonderfully into their story. Their love story was so pure and beautiful that it almost feels as if I was peeking at the them the whole time. If I had to compare their love story with any other manhwa that I read, I will with no doubt pick Fluttering Feelings. Because, yes, this is by far the most beautifully natural Boys Love I have read up until now. And OH BOY I have read a lot of manhwas.
Anyway, it would be unnecessary of me to babble any longer about this manhwa, I think you have already got the bigger picture of where my heart is standing right now and how much I love this manhwa with all my soul. I could literally talk about it all day if I had the chance to, but that's it for me there. I just hope you will go and check it out on Webtoon (link down below) and on their official Website (link down below) it's free come on guys AND girls, go support the artist on her patreon and send her lots of love. I am Kayfrid's memory and don't forget to subscribe to my newsletter if you enjoyed this type of article and to come back next Saturday for another discovery.
Peace and Love
Summary: Novae is a historical romance with a tough of the paranormal and a dash of astronomy. It chronicles the adventures of Sulvain, a sweet-tempered necromancer and Raziol, a passionate 17th century astronomer. A connection forms between them and their relationship blooms, however when the body of a fellow astronomer is found on the steps of the Academy of Sciences, their lives are entangled in ways they could never foresee.
Website: Novae
Webtoon source: Novae