Welcome, welcome my dear Busties, how have you been since the last time we saw each other? Fine I hope. From my side everything has been fine and since I had a good week and I saw this incredible new season from an anime I was waiting for so damn long, I hope you will appreciate it and that it will brighten your day as it did for me. Anyway without making you waiting any longer this is "Tokyo Ghoul: Re".
As some you may know, season 3 of Tokyo ghoul recently came out and I had the opportunity to watch the first 2 episodes, and that's what I'm about to talk to you right now.
Sincerely I don't know what to think about the beginning of this new season, it kind of felt so weird with the new look of Kaneki and his friends, not that it was bad, but their hairs went more into proportion than in the first two seasons, I don't know if it is still Ishida the drawer of this season, but his still completely changed. But I can't judge based on the anime because sometime the anime is not exactly drawn or made the same as the original version and I'm pretty sure you know what I'm talking about.
But in general it wasn't that disturbing, it was actually the opposite, we all know by now that the changement in appearance in Tokyo ghoul is a way to say that the characters has evolve, it is a visual effect of the physical and mental evolution that they went through.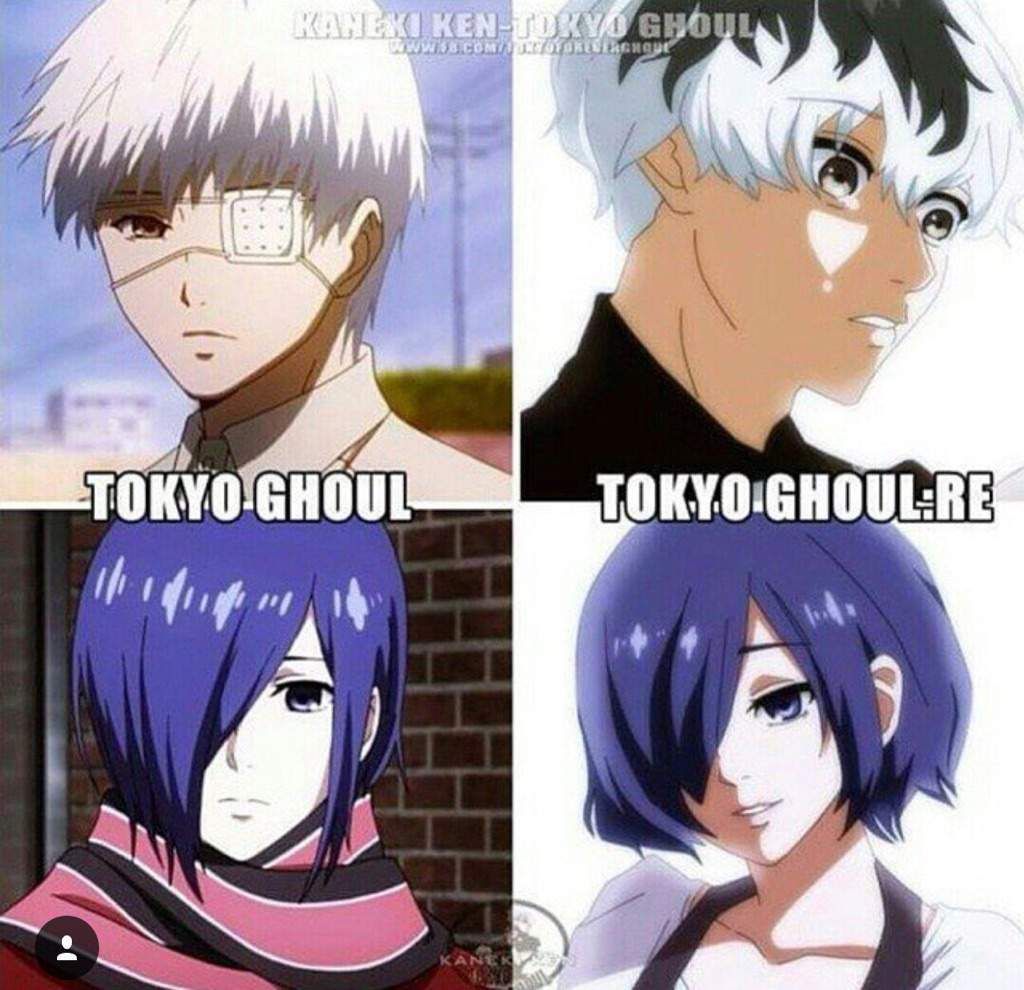 Nonetheless, even though we have that physical changement, I felt really annoyed when I saw that our dear Kaneki lost his memory but at the same time not completely, but what I was most shocked of, was when I saw that Kaneki was with the enemy (the ghoul hunters), like REALLY! He lose and they use him as a weapon against the other ghouls!? I don't blame them, I would have done the same, but it still makes it so weird that they now have some members of their group being like half-ghouls too. What's the project guys!? Making ghouls to fight against other ghouls!? But that's stupid, since that means they are also ghouls, so that make them your prey too!
As you can see, I'm particularly lose with that part, but I still believe that this could become a particular important part in some future episodes. Especially that in the 2nd episode he finally met with the blue hair girl (sorry forgot the name), I'm so excited to see what it will go.
Okey Dokey dear gang, I don't want to spoil you too much, you still have to go and watch the rest of the anime and if you already read the manga, it's not a problem, you can still enjoy the opening down below and subscribe if you want more content like this. So I hope you enjoyed this short moment together and I'll see you for another discovery.
Peace and Love!!!